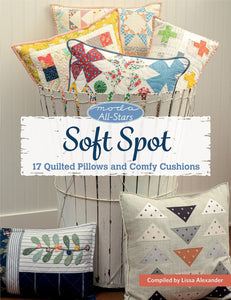 Soft Spot Book Moda All Stars 96 Pages B1577
Nothing Says Comfy like a Pile of Pillows! With Soft Spot, it's easy to show off your style at home, even if you're short on time. Pillows don't require much time or fabric, so go ahead and pile them on the sofa, stack them in a big basket, swap them out with the seasons—or change them for no reason! Besides adding punch to your decor, pillows off er excellent opportunities to try a variety of techniques. So why not experiment with a new-to-you shape, insert a zipper closure, dabble in a diff erent color scheme, or add a touch of appliqué?
The Moda All-Star contributors share expert tips so you can become a pillow-making pro! You'll learn how to make perfect pillow corners and gain insight on the benefit of quilting pillow tops. With so many fresh looks from your favorite designers, you'll be living in cushioned comfort!
Pages: 96
Author: Lissa Alexander
Publish Date: 11/01/2021
Dimensions: 8-3/8in x 10-7/8in
Softcover
---
We Also Recommend
---