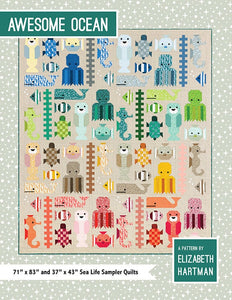 Awesome Ocean by Elizabeth Hartman EH-036
Awesome Ocean by Elizabeth Hartman
by Elizabeth Hartman
Awesome Ocean is a large 8.5" x 11" booklet pattern for an underwater creature sampler quilt. Similar to Fancy Forest, the pattern can be made in a large or small version. The pattern uses fat quarters and fat eighths and features my new Reef fabric collection for Robert Kaufman, as well as Kona and Essex coordinates. No templates or paper piecing required!
Shipping outside of the United States is available. Let me know where you are shipping and we will charge actual shipping rates.
---