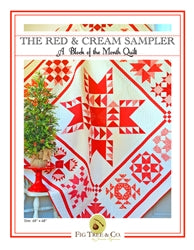 Classic Red & Cream Sampler BOM PATTERN SET
One of our most popular BOM projects to date, the CLASSIC RED & CREAM SAMPLER quilt is one that stands the test of time. Whether you are doing it for Christmas or for a year round classic project, this quilt goes together with ease and features (16) 10" blocks as well as a fabulous center star that is just spectacular!
Pattern includes the full color cover page, all 10 months of patterns and instructions from the original Block-of-the-Month, yardage requirements both in total and by month in case you want to do this for a store or friendship grouping and color & fabric suggestions to try to mimic what we have done here in reds and creams.
Of course other color combinations might look just spectacular with this quilt as well... can you imagine it in blues and creams?!
Quilt finishes at 68" x 68"
---